Introduction to Automated Processes (Trackers)
Overview
This article provides some basic information about Automated Processes (Trackers) in the Aptem system. Trackers are for managing changes to learner records and to provide a full audit trail of the changes. Aptem users benefit from them by having tried and tested automated processes, reducing manual errors and having assured consistency of their data throughout the Aptem system.
For the IT or MIS (Management Information Services), the benefits are more obvious: time saving, an automated workflow for the everyday tasks related to Learner management, automated updates and reminders to approved administrators to verify the execution of actions. Better still is the creation and maintenance of the full audit trail as required in Government funding schemes.
This article introduces through examples what these processes can do, some false assumptions and how they are already being used by many Aptem customers, employers, apprentices and trainees.
Types of Trackers
Trackers allow you to document and internally manage cases for your learner's ILRs (Individual Learner Records), compliance or other aspect of the learner journey. A tracker can be created for a learner, and you can choose to allocate queries, checks or actions to other administrators (via a notification), or for yourself.
As a tutor or Administrator , you can use the trackers functionality to view and manage trackers relevant to your learners. You can create and manage trackers for a learner from the Aptem Classic view or the Console view (see Trackers - Overview (zendesk.com)).
There are three types of tracker:
Basic tracker - a simple tracker which will display information about a learner's activity when accessed. For example, if the wish to change the official name of the learner account, the tutor or Administrator will see it when checking on the learner or any other trackers (s)he has produced.
Automated tracker - a more sophisticated tracker which will send an internal message to the tutor/administrator/ assignee to show the request.
Process automated tracker - if a learner makes a request (name or address change) the tracker will send note(s) and implement the changes required in the ILR.
Why, Who & What?
It is worth remembering throughout your use of the Aptem platform, that you are working in a complex environment possibly involving a huge number of learners, students and apprentices, of managers and staff in organisations such as universities, employers, training companies and institutions and funding departments in Government. Consequently, there are many processes, many links to local or distant entities and the crucial issue of claiming, justifying and receiving funding for the work of individuals and organisations.
Not surprisingly, there are sequences of administration which are repeated often, sometimes regularly and require the intervention of senior people whose time is limited and/or expensive. These sequences or workflows are referred to as processes which, to a greater or lesser extent, can be automated in a computer system or on a computer platform (see Workflow in the Glossary - in development – Aptem Help Centre).
Why automate processes?
There are six very good reasons why the Aptem platform has developed many optional automated processes for its customers:
To provide a workflow for the completion of everyday tasks related to learner management
To update automatically various sections or parts of the Aptem platform
To generate tasks for administrators to ensure all necessary actions are executed
To include a one or a two-stage approval procedure
To provide a permissions-based system for appropriately responsible users
To maintain a full audit trail of all the changes (who did what, when, for example)
Put more simply, automation of processes:
Who is involved?
The importance of complying to the rules and regulations as well as the stringent requirements of a complete and detailed audit trail cannot be underestimated. Apprenticeships and Traineeships are funded by the UK Government and to ensure payments to employers, training organisations and apprentices & trainees, compliance to ESFA (Education & Skills Funding Agency) rules is crucial. (See Apprenticeship funding rules - GOV.UK (www.gov.uk) and also ESFA Audit Requirements). Consequently, the main actors involved in managing the technology, staff involved and the selection and use of the optional automated processes are technically very able, and in management positions:
Compliance manager and / or the head of MIS (Management Information Systems)
Typically, those in these roles will have overall responsibility for the final 'processing' or rejection of process automation requests and committing the changes involved.
MIS officer and / or Compliance administrator
Typically, staff with these roles will have the responsibility of creating some types of process automation requests and checking / editing requests submitted by tutors.
Regional manager and / or Operations
Personnel with these roles may be involved with the 'pre-authorisation' or rejection of initial process automation requests, particularly those originating from tutors.
Clearly, being in any way involved with Government funding requires serious commitment by diligent and intelligent staff, but when a process is in place and understood, many users in different roles can benefit from the presence of automation. Even a learner may start a process, for example, starting the process of registering a change of name (perhaps because of marriage or a deed poll choice) or more commonly a change of address, following a house move.
What are these automated processes?
Aptem has 10 years of experience in implementing its software for a great range of customers and has learned much about their workflows and their time-consuming administrative activities. Initially 'Trackers' were developed to enable you to document and manage cases internally for your participant's ILRs (Individual Learning Records), compliance or other aspects of the participant journey. A tracker can be created for a participant and you can choose to allocate queries, checks or actions to other administrators (via a notification), or for yourself (see Trackers - Overview (zendesk.com) ).
During the last year or two it became more and more evident that Aptem could help its customers more by offering optional automated processes for essential tasks: they have proved popular. While not strictly true, one way of viewing an automated process is to consider it 'an intelligent tracker', which may help you appreciate the concept and its importance. Not only does it 'know' what to do, it does it.
The currently available options and those being developed are in the table below:
Available automated processes

See References: Ref* (at end of this table)

Change of name and Change of address


(See Ref1)

Capture change request details and supporting evidence
Reflect changes throughout the system when approved

Break in learning


(See Ref2)

Capture details of the requested break
Update the system and the ILR to reflect the withdrawal

Withdrawal from learning


(See Ref2)

Capture reasons and dates for withdrawal
Update the system and the ILR to reflect the withdrawal

Recognition of Prior Learning & Calculator (RPL)


(See Ref2)

Evidence adjustments to training price
Reflect changes to the price in the ILR

Change in working conditions


(See Ref2)

Process a change of working hours, working location and/or job title
Update the system and recalculate the associated figures

Return to learning

(See Ref2)

Return a learner to the training programme following a break

Change of (training) programme)
(See Ref2)


Move a learner from one programme to another due to requested change or error

Additional Learning Support (ALS)

(See Ref2)

Identify ALS requirements
Apply ALS funding in the ILR
Provides an interface to start and stop funding claims for a learner

Successful completion of a (training) component aim

(See Ref2)

Complete aims in the ILR when pre-determined level / status is reached

Change of employer


(See Ref2)

Capture change details and associated new employer record
Update the ILR record to reflect changes

Automated process in development

Completion of a (training) programme

(See Ref3)

Identify successful completion of a programme of learning
Confirm all conditions for achievement/ close have been met successfully
Amend the ILR and compliance documents
References:
Ref1
See the specific related articles for Learners (Name, contact details and address change) :
Account Settings – Aptem Help Centre
Ref2
See more in the Administrator articles on Process Automation: Process Automation – Aptem Help Centre
Ref3
More details will be announced as soon as possible in Announcements – Aptem Help Centre.


Example workflows
As you have seen from the previous section, there are several types of process automation, where the workflows may be similar or distinctly different. Sometimes the facility to use a particular process will depend on the status of the participant involved. For example, consider a learner who will start as an active user. Later, for one reason or another, the learner may have to take a break from the learning programme because of illness, moving home, and so on. When the issue has been dealt with, the learner can request to re-join the programme and become an active user again. Or, because the issue is serious and continuing without an end in sight, the learner may opt to withdraw completely from the programme. The learner may have taken that decision immediately the issue arose and requested withdrawal straightaway. The diagram below illustrates the possible workflows that need to be covered by the automated process.

It shows clearly that if a learner withdraws, it is not possible to return to the Active status, whereas if on a Break, it is. However, this is a relatively simple workflow and there are many more complex scenarios.
Consider a learner who has been placed on a Break in Learning (BIL), then returns to learning having changed to have a new employer and needs to change the training programme as a result.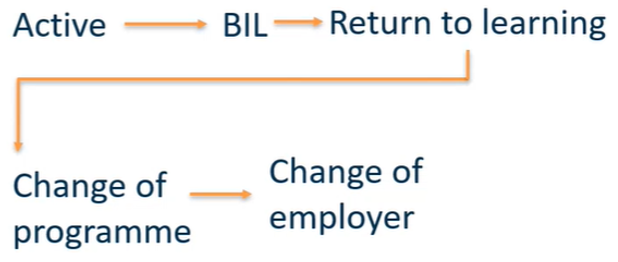 Where multiple changes are required, Aptem's view of 'best practice' is to treat them as separate processes in the order shown by the amber arrows.
What you might assume...
Given that automated processes are relatively recent and sometimes complex, some new users of these options initially have made incorrect assumptions. Here are two examples:
"These process automations will correct errors for me"
The process automation functions, in common with the rest of the platform, rely on your data being entered correctly. Basic functions will prevent a user making an obvious mistake such as trying to use an incorrect date format or entering and impossible date (like 31/02/2019). It will not stop erroneous data though, such as entering 11/09/2021 instead of 09/11/2021. We must recall the earlier IBM acronym GIGO: Garbage In, Garbage Out.
"Using automated processes will mean that we lose control of our data as anyone can create one..." and/or "we are not changing it manually".
While an automated process can automate the vast majority of processes in a workflow, the execution of such a process depends on a user with appropriate role to invoke the changes. Customers concerned about this can use the 'pre-authorise' role for an initial control with the final role being necessary from, typically, the second senior user with the right of execution of the process and invoking the changes.
What you might query
"Data not displaying in the ILR as expected" Here are three items for you to check:

Check the data entered in the automation tracker: is it correct?

Have you (or any other user) manually changed any values in the ILR since the process automation? - if so, this may have led to inconsistencies.

Has the Process Automation tracker been set to 'process' (that is, to be executed)? If not, then no actions will have been committed or saved to the system.

"I've entered all the details into the tracker, but nothing has changed" Here are three items for you to check:

Has the Process Automation tracker been set to 'process'

? If not, then no actions will have been committed or saved to the system.

Is the Learner in a suitable status for the process to apply? For example, you cannot put a Learner on a Break in Learning if the status was 'Withdrawn'.

Does the Learner have a valid ILR

?

Has the ILR been excluded?

If the learner's ILR is marked to be excluded, the process automation will not update the learner's ILR.

"Can we add extra steps to process automations to fit our workflows? For example, when placing a Learner on a break we capture xx number of additional pieces of information and ask questions about each one". There are three points for this too:

The fields in current Automated Processes are fixed and cannot be modified by the customer.

Customers should collect additional information required by a custom review where an Automated Process is not sufficient in isolation.

The functionality to 'embed' Process Automation into reviews will be introduced in due course (estimated 2022).
"Our business processes mean that we do not wish to use certain process automations"
for example, a University that uses SITS (Strategic Information Technology Systems - a student records management system) to manage learner details.
Since process automations are optional they need to be authorised and enabled at Tenant level (see Glossary - in development – Aptem Help Centre). If a customer does not want a process which has been activated, they should connect their senior Administrator / support to disable it.
"We do not have zzz Process Automation available to us"
Since process automations are optional they need to be authorised and enabled at Tenant level (see Glossary - in development – Aptem Help Centre). If a customer does not have all the processes they require activated, they should contact support to enable them.
Note Process Automation Trackers can be turned on and off by MWS staff only. An administrator with the role and permissions will have access to a dialog like the one shown below.