Overview
Quick filters are designed to help you narrow down the list of learners. When you use a quick filter, the learner grid is updated automatically. You can use more than one filter, the grid will use all the filters used to update the list of learners.
Name filter
If you know the learner's name you can quickly search for them using their name. Start typing the name, and the filter will start assisting you after you enter the first 3 characters..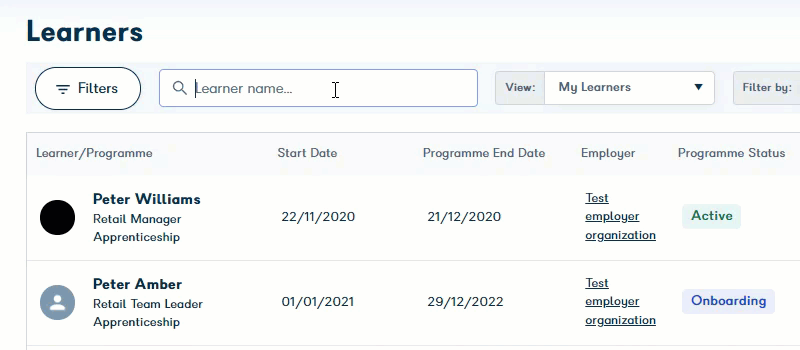 Learner ownership
You can filter by learner ownership. You can choose from the following:
My leaners: Shows the learners for whom you are the designated Tutor.
Secondary learners: Shows learners for whom you are an activity owner. You must be the activity owner for at least one activity in the learner`s learning plan in order for the learner to appear in this list.
All learners: Shows all learners that you have access to in the group structure. This option will only show if you have permission to view all learners within the group.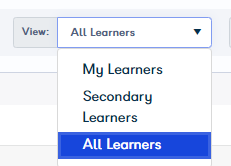 Requires attention
In this dropdown, you have the following options:
Requires attention: You will see the learners that have:

Overdue activities and tasks
Activities that requires marking
Unread messages
Signatures required
Requires marking: You will see only those learners who have activities that require marking.
Ready for QA: You will see learners who have components earmarked for quality assurance.
Unplanned QA: You will see learners who do not have enough quality assurance planned.