Create a Job outcome tracker
Overview
This feature/article is applicable to the DWP Restart programme only.
Creating a job outcome/start tracker allows you to evidence that a participant on an employment-focused programme has secured employment. You can have multiple job outcomes/starts for a participant on programme.
In addition, where you have activated the milestone feature in your programme builder and selected 'DWP Restart' milestone, entered the financial milestones and then recorded a job outcome/start, Aptem will support the tracking of the outcome to the achievement of the financial milestones by calculating the approximate achievement date of the financial milestone from the start date of the job, the hourly rate of pay, and the hours worked per week.
Getting started
Sign in to your administrator account.
Search for the participant that you want to add the 'Job outcome/start' tracker to.
Navigate to the Trackers section via the drop-down menu option on the participant grid.

You can also navigate to the Trackers section via the participant profile page by using the participant menu option titled Trackers.

On the Trackers screen, click Create Tracker in the top right-hand corner of the page.

For a participant who has moved into employment, select the following:


Type - Job
Status - New
Assignee - (if required assign to the appropriate team member i.e., compliance)
Description - Job title



Select the organisation from the drop-down list. If the organisation does not have an organisation profile in Aptem, you can add one by clicking on the plus sign.

While creating an Organisation, you must enter/note the following:


In order to create a job outcome tracker, the status of the organisation must be 'Confirmed'.
Add organisation name (mandatory)
Add owner - relationship owner with the employer (mandatory)
Category - Industry type for reporting purposes (optional)
UKPRN - not required for employability programmes, only for ESFA programmes i.e., Apprenticeships (optional)
Website - optional
Click Add to save.

If you need to add the address of the organisation, click the plus sign.


Add the Postcode - click Find address from the address finder and add.
If the full address isn't available, add the details manually
Click Add to save.


If you need to add a contact, click the plus sign and add:


Name (mandatory)
Owner (mandatory)
Email address (mandatory)
Phone number (mandatory)
Additional phone number (optional)
Role (Optional)
Address (it may differ from the organisations address i.e., regional or local office)
URL - optional
Click Add Contact to save.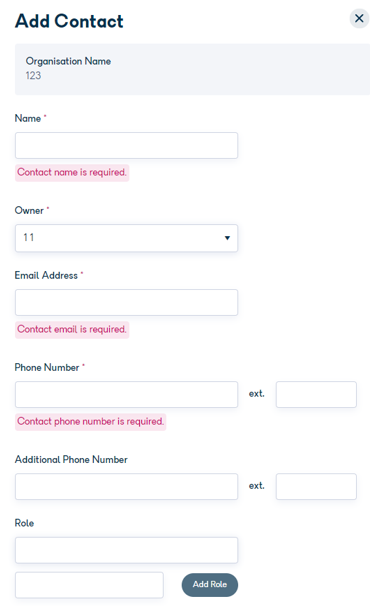 Enter the employment start date (mandatory).
You only need to enter the End Date when a participant finishes employment (optional).
Add in the weekly working hours (mandatory).
Add in the hourly rate of pay.
If required, you can add evidence of the job start/outcome by uploading the evidence to the documents section.
Click Create to create the tracker.