Overview
All of the documents related to your apprenticeship will be stored in the Documents section.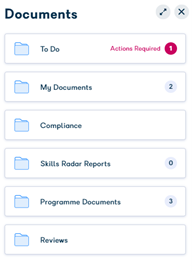 To Do
This section highlights any outstanding tasks that you may have relating to documents. Click on the 'To Do' box to open and sign any documents that are listed here.
My Documents
Documents can be uploaded here for your own reference. It is important to note that documents that are added directly to the Documents section will not be mapped as evidence against your Learning Plan, they are for your own reference only. If you wish to add a document as evidence against your Learning Plan, please navigate to the correct section of your Learning Plan and upload there.
Please note: Any documents that are uploaded to the My Documents folder are visible to your Tutor.
Compliance Documents
A set list of compliance documents is stored here, such as the Apprenticeship Agreement and Commitment Statement.
Skills Radar Reports
This section is for the tracking of competencies (note that not all Apprenticeship programmes track competencies so there may not be anything in this section). A competency is a defined set of knowledge, skills and behaviours which support effective job performance (e.g. personal organisation).
Programme Documents
This section is where any documents that your training provider has provided for your specific programme are stored. They can be viewed at any time throughout your learning journey.
Review Documents
Review documents are records of meetings that that have taken place which are then stored here as PDFs once they have been completed.