The Aptem Employ dashboard has been designed to be used by anyone in the business who may be involved in supporting jobseekers to find employment. Displaying comprehensive jobseeker information and powerful analytics in one dashboard provides real-time insights into the activity of jobseekers and those involved in supporting them. Typical users of the Aptem employ dashboard could be people in, but not limited to, the following key business roles:
Work coaches/career coaches

Senior managers

Stakeholders
What information does the Aptem employ dashboard contain?
The Aptem employ dashboard has been created to provide jobseeker and work coach-related information based on the data currently held within your Aptem employ platform. The Dashboard provides jobseeker and work coach information broken down into the following sections:
Onboarding

Caseload

Jobseeker contacts

Jobseeker activity

Starts
Power BI reports in Aptem console
Administrators with the Power BI Employ Report role can view the relevant Employ Power BI report in Aptem console. Please note that even after the role has been assigned, it takes some time to take affect and show the reports. The report cannot be seen immediately.
To view Power BI reports in Aptem console, click Power BI Reports on the left menu.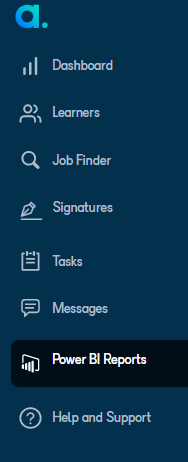 On the Reports screen, you can view the Employ report. If you have access to more than one report, you can use the navigation menu on top to navigate to the report you want to see.
You can view the information across the different tabs on each report.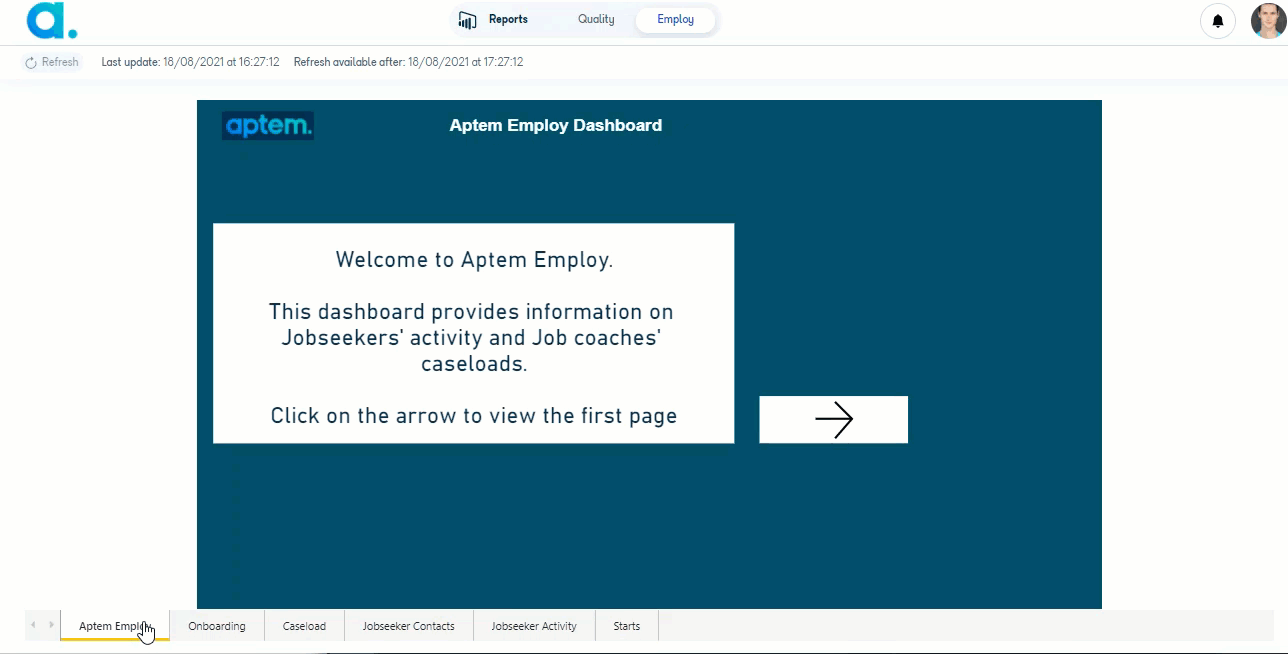 Refreshing the Power BI report
To refresh a report, you can use the Refresh button. Reports cannot be refreshed within an hour of the last refresh. The time of the last update, and the next available refresh time is shown.