Overview
If the Skills Radar functionality has been enabled for your programme, you can can self-assess against predefined competencies. This self-assessment can then be used to prompt a conversation with your work coach and employer who will also assess the level you are currently at.
Self Assessment
Depending on how Skills Radar has been set up for your programme, you will have the ability to self assess against predefined competencies during your onboarding process.
You will fill a form similar to the one shown below. You must choose the option which best applies to your skill level.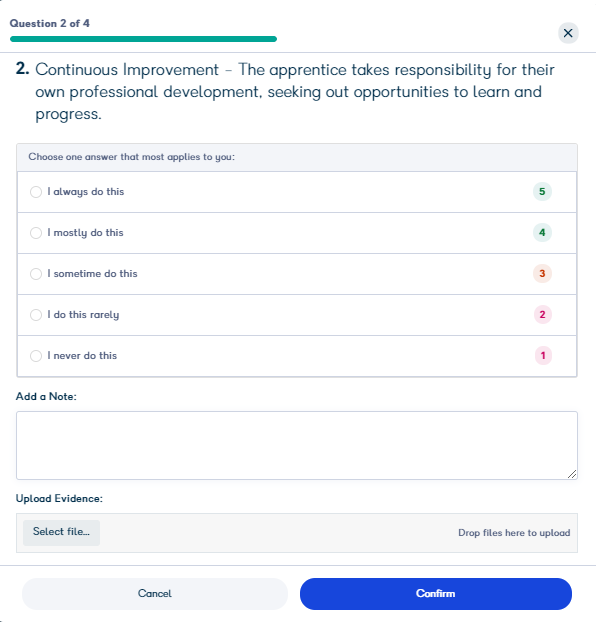 You can also add a note and upload evidence to justify your self-assessment grade. Click Confirm to submit your grade.
Depending on how it is set up for your programme, you may have to fill in multiple Skills Radar self-assessments. The onboarding wizard will guide you through each of these.

View Skills Radar
Once you finish your self-assessments, you can view your self-assessments and the work coach's assessment of your skills. Click Skills Radar from the left menu.
The Skills Radar screen is displayed. You can see various competencies listed, along with the self-assessed grades and the work coach-marked grades against the competencies. If your work coach has applied goals against any of the criteria, you will see the goals marked by a dotted line. You can hover over the bar to view the details of the assessments that have been already made.
The Criteria Submitted panel to your right shows a summary of the goals achieved, and the goals you are working towards.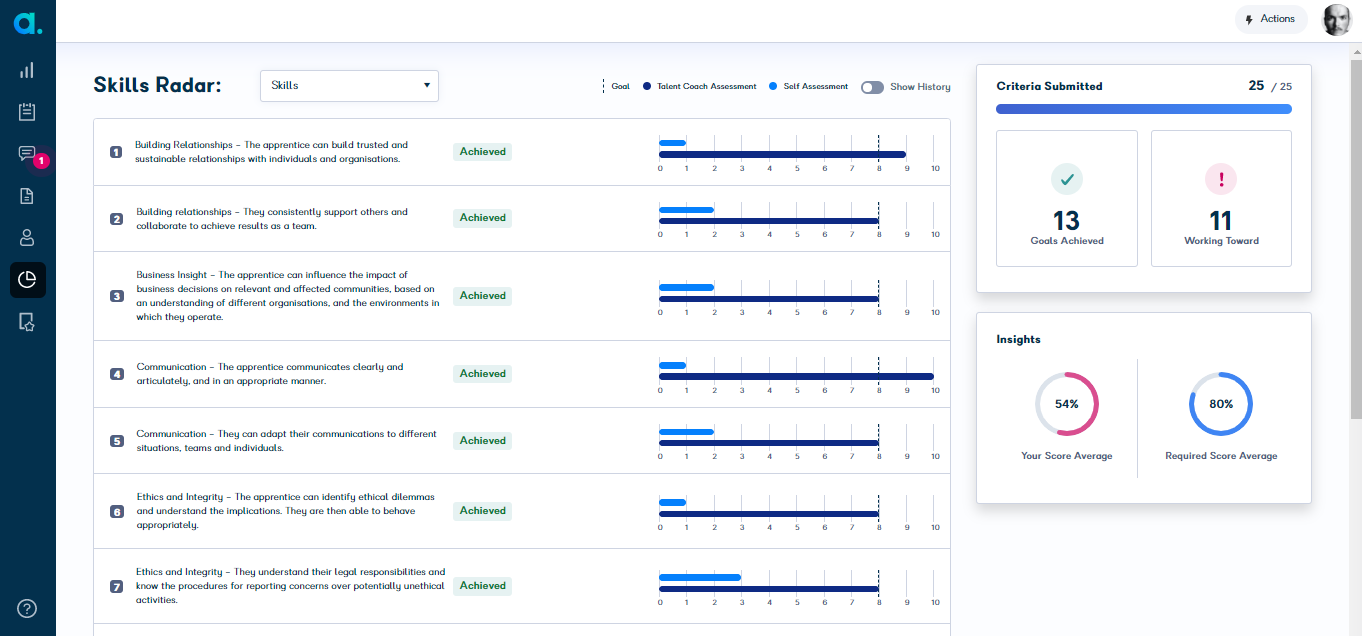 Show history
By default, the Skills Radar screen shows the latest assessments made by the learner and work coach. To understand your progression against the competency levels throughout the duration of the program, you can view the previous assessments.
Use the Show History toggle to view previous Skills Radar assessments.