Note: This article is applicable to Employers using the Employer console. If you are using Aptem classic, see: A How-To-Guide for Employers.
Overview
Aptem can be used to complete, sign and counter sign documentation from all parties who use the system. Many externally funded programmes require the completion of compliance documentation in order to prove registration, receive funding and demonstrate outcomes.
If configured by your organisation, the following features are available:
Availability of compliance documents as electronic templates e.g. ESFA Commitment Statement and the Apprenticeship Agreement
Ability for learners, employers and your organisation's representatives to sign documents electronically.
Automatic population of documentation with relevant information stored within Aptem.
Creating a signature
Learners, tutors and employers will need to create an electronic signature so that documents can be digitally signed. You will have been asked to create a signature when you first register for access to Aptem. You can either draw a signature, or choose from a list of suggested signatures.
Checking and amending your signature
You can check and amend your signature at any time.
To change your signature, click on the avatar / photograph on the top right of your screen.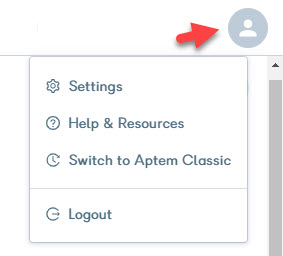 Go to Settings > Signature Sample.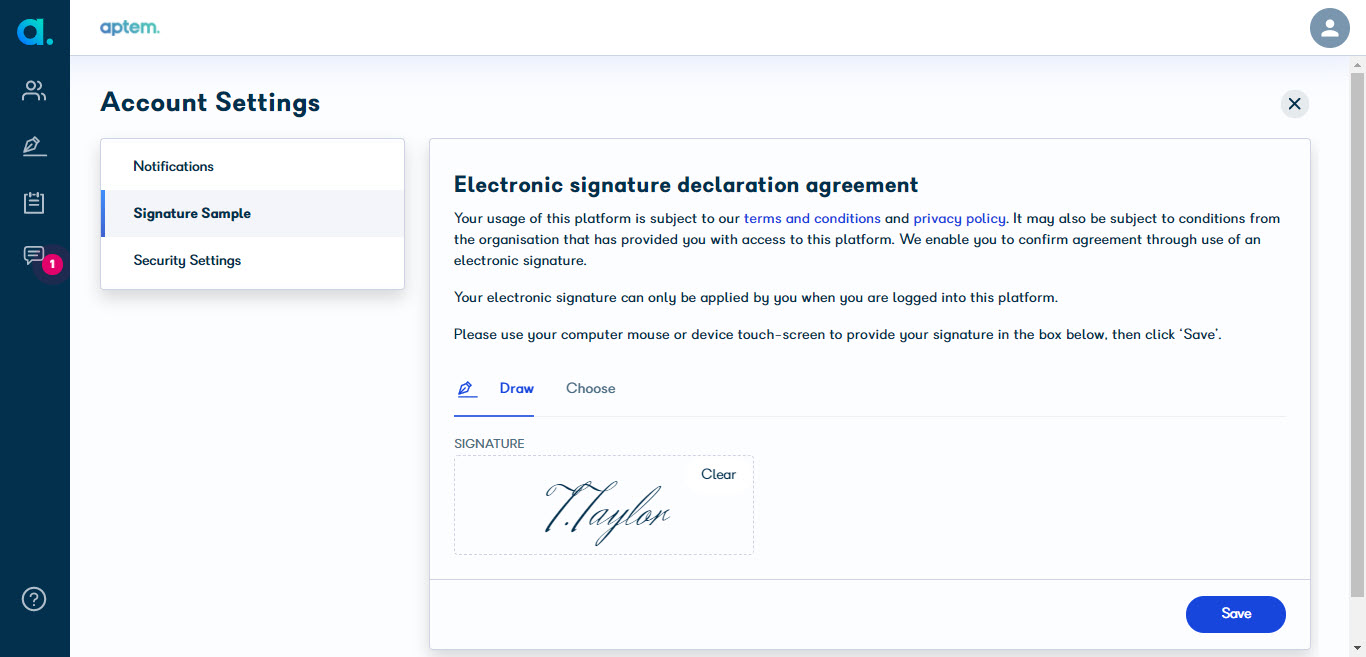 If you wish to make any changes, you must clear your existing signature. Click Clear next to your signature.
You can either draw a new signature, or choose from a list of suggested signatures.
Click Save if you want to save the changes. If your signature is saved successfully, you will see the following message:

The Signature screen
You can review the status of available documents that you are responsible for signing.
Click Signatures on the left menu.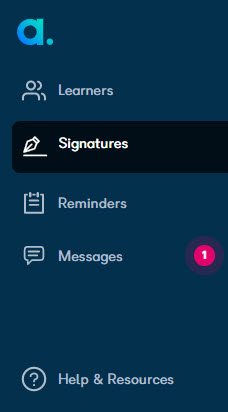 You will see the list of the documents that you need to sign. Documents appear on this list only when they are ready for you to sign.
You can choose to view signatures required for either compliance or reviews by selecting the relevant tab.

You can view the documents that you have already signed for any particular learner in the Learners Document area on their record.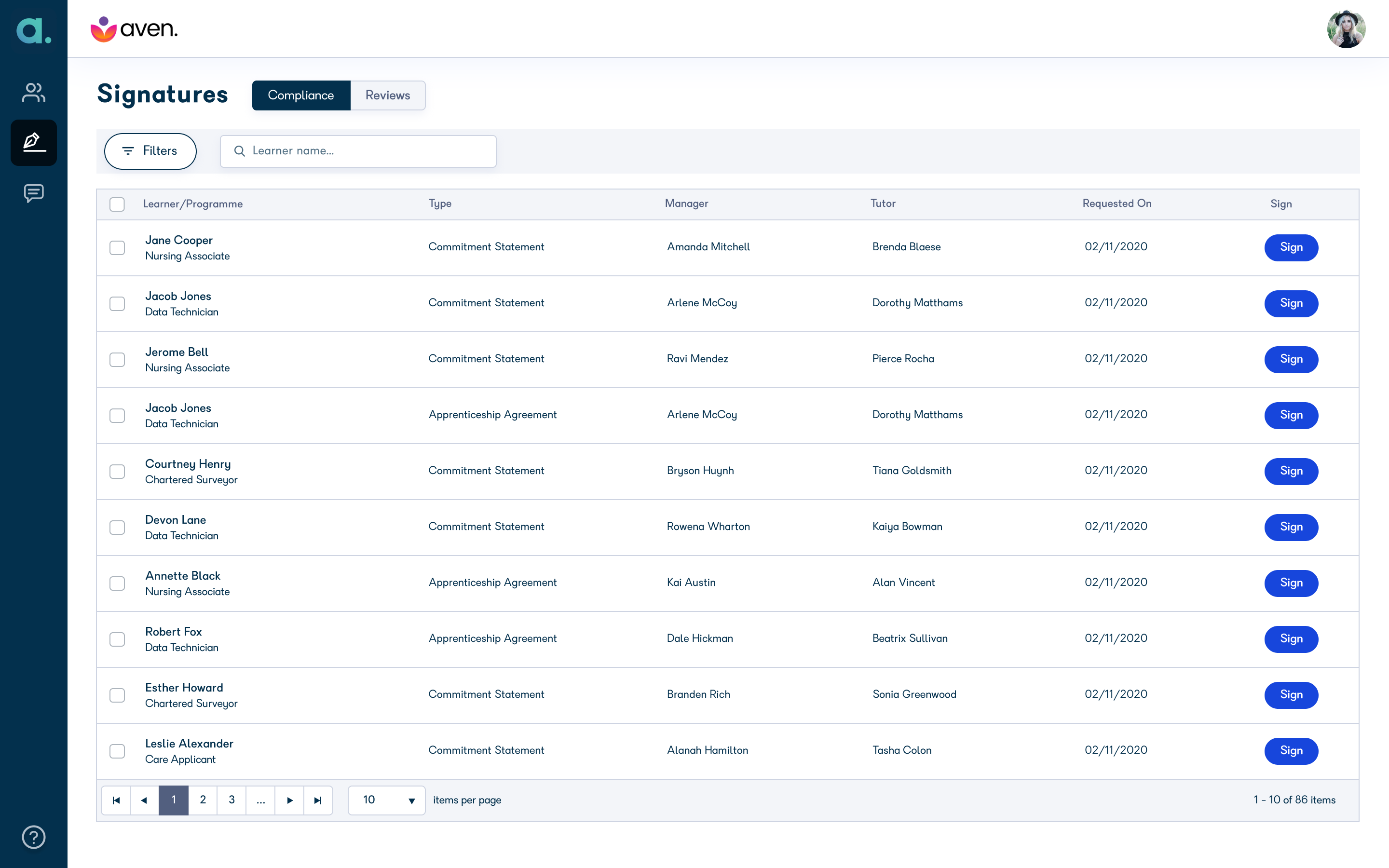 You can see the following columns displayed:
Learner / Programme
Type of document
Manager
Job Coach
Requested on
Sign
Filter
Click Filters on the top left of the grid to narrow down the list. You can see the various filters on the right pane.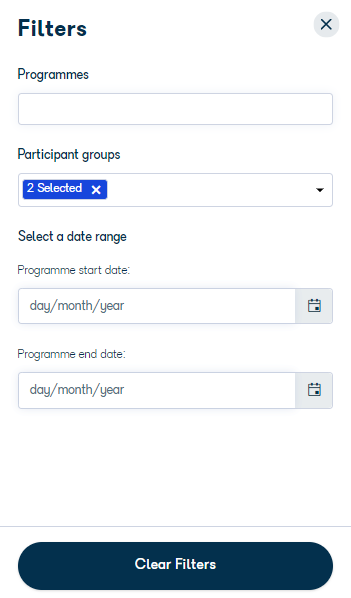 You can specify one or more programmes before applying a filter. You can also filter by start date and end date. You can use more than one filter, the grid will use all the filters used to update the list of learners.
To clear a particular filter, hover over the field. Click the x-shaped clear symbol that appears on the field, towards the right. This will clear the filter, and the list of learners is updated.
To clear all the filters used, click Clear Filters.

This will clear all the filters, and the original unfiltered learner list will be displayed.