Enhancements to the Message Centre
Overview
Following feedback from customers we have planned to make some significant enhancements to the Aptem message centre. This article outlines the key changes:
Messages & Notifications
We received feedback from customers that the combined view of messages and notifications made it difficult to identify when a user had sent a message from when a notification had been received. We will be simplifying this by splitting notifications from messages.
Notifications will appear in a separate panel (figure 1) and you will see two separate indicators for unread messages (figure 2) and unread notifications (figure 3).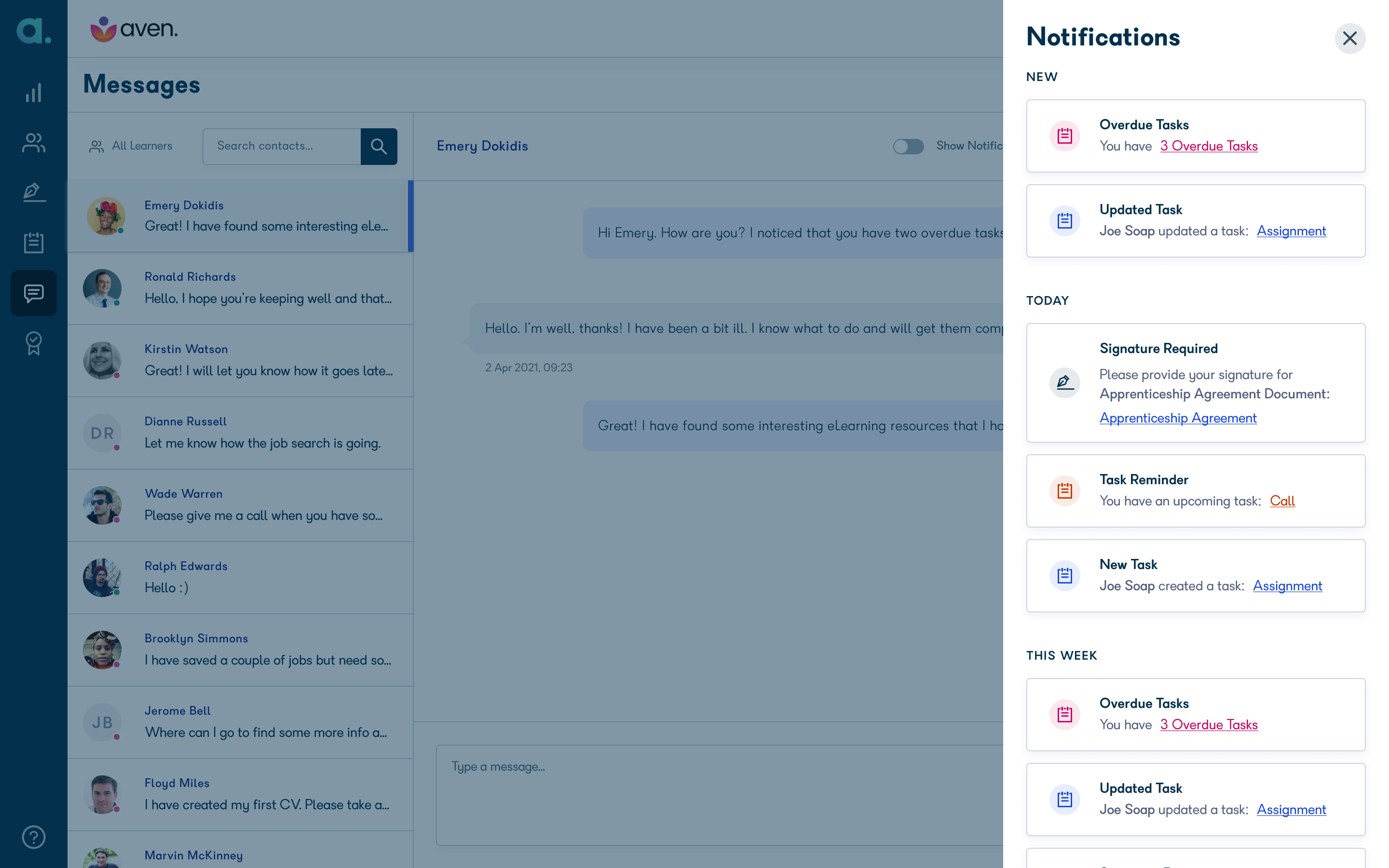 Figure 1- New notifications side panel

Figure 2 - Unread messages indicator

Figure 3 - Unread notifications indicator
Inline message and notification history
Some customers have indicate that they would still see the value of continuing to see notifications in a historic timeline for a user along with messages for audit type purposes. With this in mind we will provide a "Show notifications" toggle.
Figure 4 - "Show notifications" toggle
Notifications formatting
Notification types
Some customers have suggested that they would find it easier to use notifications if we more clearly differentiate the types of notifications.
To improve the ease-of-use we will introduce a colour indicator to highlight the importance/status and a symbol and title to easily identify the notification type.



Figure 5 - Notification types
Notification content
We also received some feedback that the content of the notifications could be improved by including relevant details (based upon the notification type and status). To support this we have updated the format for each notification type and corresponding trigger, e.g. created, updated, approved, completed, etc.
Below is an example of the content of notifications related to marking evidence: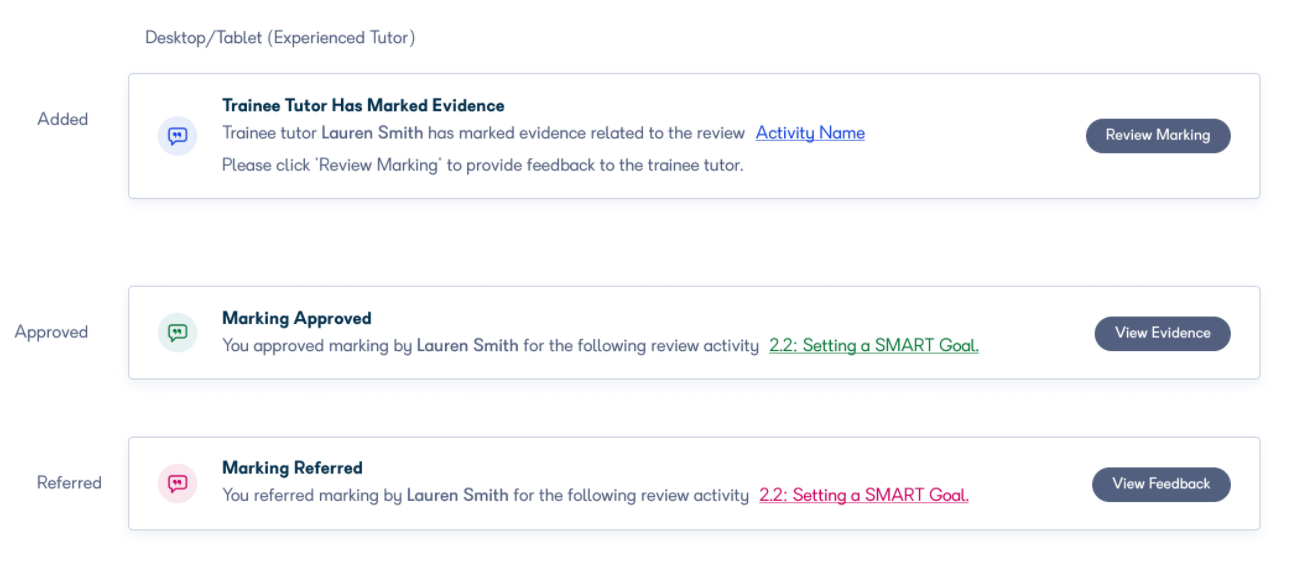 Figure 6 - Notifications content
Messages filtering
We have received some great feedback on the new "user filter" in the console that allows the logged-in user to easily limit the list of users in a particular section of the console to those most relevant to them.
By default, this list will show those user assigned to the logged in administrator, you can alternatively select where the administrator is involved in the delivery of the plan or all users that the administrator should have access to.
To extend the usability of this feature and more easily able to identify relevant and actionable messaging for the logged in administrator we will be adding this to the message centre main screen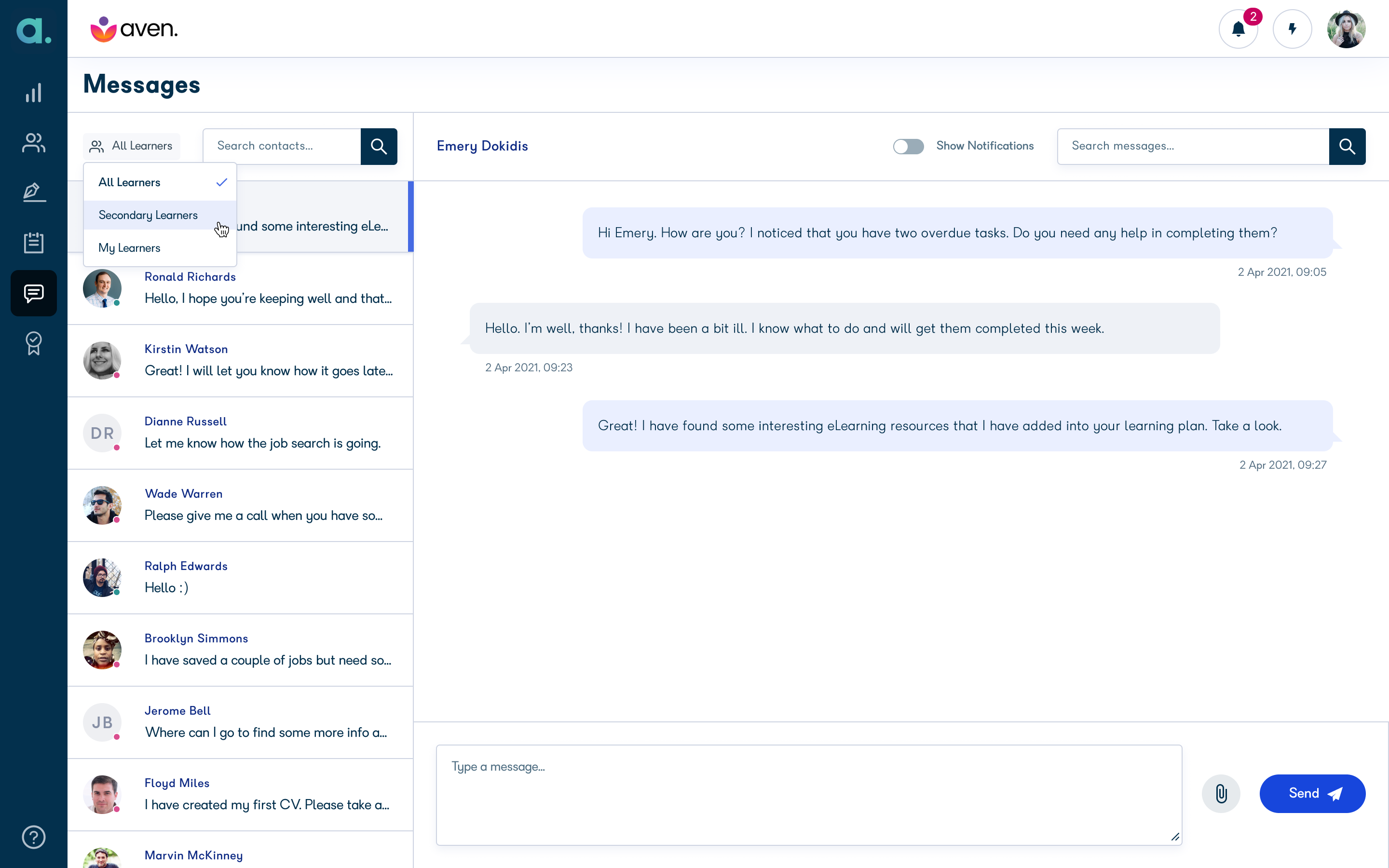 Figure 7 - Learner filtering for message centre