How can I copy text in Aptem without losing the formatting?
If you have a learning plan component that needs to be inserted into a new programme, you may wish to duplicate the instructions for the component.
If you use copy and paste, the formatting for the original text is lost.
| | | |
| --- | --- | --- |
| | becomes | |
To avoid this, instead of using the copy and paste functions, highlight all the text that you want replicated. It will appear blue.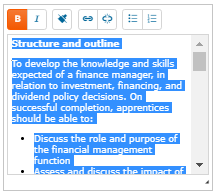 Then, left click onto the text and drag it into the new text box that you wish to fill. A "no-entry" symbol will appear as you move the text until the text is over a text box that will accept the text.
When the button is released, the text will be duplicated into the new text box with the existing formatting in place.